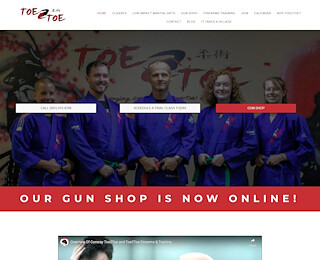 The concept of self-defense relies on two concepts – self-protection and self-improvement. We, the team at Toe2Toe, offer you a two-layered self-defense martial art that has real-life applications. We welcome everyone at our gym, including women and children, as well as anybody willing to improve their physical condition and acquire some combative skills on top of that.
Our self-defense classes in Conway, AR, use two key concepts when it comes to active and reliable self-defense – standing combat and ground-fight. Both these concepts are critical for any imaginable self-defense scenario, where you need to protect yourself from one or more attackers. In this sense, our system comprises the knowledge and techniques from two different, but extremely effective disciplines:
Kickboxing
Kickboxing is an ancient Japanese martial art relying on kicking, punching, and distance management. It keeps growing in popularity today due to its combat effectiveness, and it's one of the most useful martial arts when it comes to protecting yourself against more than one opponent. At its core, this self-defense system relies on strength, flexibility, self-control, and power.
But beyond everything else, it's the technique that will make the difference. We have a team of expert trainers ready to immerse you into the world of martial arts and teach you the secrets of becoming a true warrior. The benefits you should expect are:
Overcoming your fears
Become more emotionally balanced during a confrontation
Grow stronger and more flexible
Develop more stamina
Harden your body and your mind, etc.
Jiu-Jitsu
Another Japanese martial art, made famous by the Gracie family back in the '90s. It represents a fundamental addition to our self-defense classes in Conway, AR, thanks to its combat effectiveness. It's natural for people to grapple, even for untrained attackers. We use our hands to grab our opponent's clothes or body out of instinct because it allows us to control the situation better.
Jiu-Jitsu has perfected this instinct, increasing it to the rank of art. As a one-on-one combat system, Jiu-Jitsu is probably one of the most effective self-defense arts in the world. It relies on control, transitions, mental flexibility, and using your opponent's strength and aggression against him. It was the Gracie family that has promoted the Brazilian Jiu-Jitsu (BJJ) system as the "little guy's martial art," designed to help smaller people to defend against larger attackers.
The benefits are immense:
Better control over your own body
Improved self-control when dealing with larger opponents
Improving mental flexibility and awareness
Teaching humbleness, responsibility, and discipline, etc.
We've taken the best out of both arts to provide you with some of the most effective self-defense classes in Conway, AR. Beyond everything else, the most important benefit of all comes in the form of personal development. You will become more confident, physically and mentally capable, and more aware of your strengths and weaknesses.
Join our program, at Toe2Toe, and begin your journey of self-discovery! With your dedication and our knowledge, you'll be on your way to greatness in no time.